Student dormitory
Student dormitory of Technical University of Košice, Nemcovej 1 street
| Student rooms (Shared toilet, shower and kitchen) | |
| --- | --- |
| 2-beds room | 24* Eur |
| 2-beds room occupied by 1 person | 16* Eur |
| 3-beds student room | 36* Eur |
| Guest rooms (hotel standard) | |
| --- | --- |
| 2-beds room | 42* Eur |
| 2-beds room occupied by 1 person | 25* Eur |
| 2-beds room in the bunk (shared WC, shower in the bunk) | 40* Eur |
| 1-bed room in the bunk (shared WC, shower in the bunk) | 20* Eur |
* The prices does not include city tax,
which is curently at the level of 1,50 EUR per person (under 70 years) per night.
Additional information
It will be possible to order breakfast and dinner at the dormitory.  Order has to be made a day ahead.
Guest rooms has refrigerator. Only 3 beds student rooms has refrigerator.
The kitchenette is located in a hall and serves all the rooms.
Only the kitchenette in the guest part of the dormitory is equipped with basic culinary utensils. To cook please bring your own utensils.
Washing machine is available.
A small communal room is available in the guest rooms section.
In a case of accommodation cancellation, a cancellation fee 5% + bank charges will be counted.
Camp
Price: 6 EUR/person/night
WMOC camp will be set up on the football playgrounds of the Youth Football Club FK Galaktik. The camp is located in the city part Jazero and is 7 km away from the Event Centre. For traveling within the city it is possible to use a public transport. The camp is fenced and protected by a camera system and will serve only for WMOC participants and WMOC public race – Slovak Karst cup. The camp has a parking lot with a capacity of about 40-50 cars.
There is a small restaurant in the camp, there will be possible to pre-order meals. Breakfast price is up to 3 EUR, dinner price 4,50-5,50 EUR.
There are 2 supermarkets close to the campsite. At a distance of about 2.5 km is a lake with the possibility of swimming and relaxation.
Hard floor
Price: 4 EUR/person/night
A hard floor accommodation will be provided close to the WMOC center and close to the city center. It will be necessary to bring your own sleeping bag and mattress. In the accommodation will be provided showers, toilets, parking in the court. Self-cooking and using of an open fire is strictly prohibited. There are enough catering facilities of different price levels in the surrounding area.
Caravans
Those who want to book a place for their own caravan can do it in CAMP Košice
It is also possible to book accommodation in a mobile house.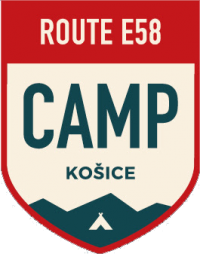 You can find other possibilities of accommodation in Košice and its surroundings on accommodation portals or directly on the websites of the accommodation providers.